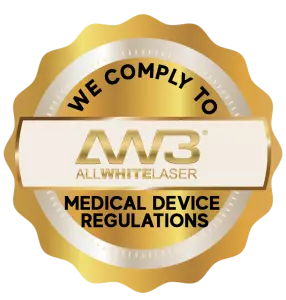 Introducing the AW3 Schnelle laser hair removal machine, instant Crystal Freeze® technology.
No more burning – New Improved MDR Model AW3 is the first to develop the most advanced Crystal Freeze® innovation to numb the treatment area so our clients will be more comfortable during the low pain treatment compared to other lasers.
Introducing The AW3 Laser Hair Removal Machine
AW3 systems are used to treat a wide range of unwanted hair and are suitable for all skin types.
AW3 is internationally recognised as a leading provider of lasers and light systems that are clinically proven to be safe and effective.
With its wide variety of medically certified machines, AW3 represents superior engineering and scientifically calculated technology to offer the best results in the industry.
This system specialises purely in hair removal only.
The AW3 Laser system achieves extraordinary results that conventional laser systems cannot deliver.
A concentrated beam of light is aimed at the hair. The light is absorbed by the pigment contained which damaged the follicle enough to stop future growth.
As new hair growth cycles start, additional treatments are required to remove those hairs too.
And eventually, hairless-ness will be achieved.
With the most advanced Crystal Freeze innovation to numb the treatment area, you will be more comfortable during the low pain treatment compared to other lasers.
Using the most advanced equipment and products available you can be assured that you are receiving no less than the best technology to achieve the skin that you have always desired.
Faith Laser Liverpool Laser Hair Removal Specialist
Operating from our base in Waterloo, Liverpool Faith Laser offers Liverpool laser hair removal using the most advanced Triplicity wavelength technology in the laser industry, combined with a Crystal Freeze cooling system for comfortable, super fast treatments.
We are Liverpool laser hair removal professionals within the industry and fully qualified specialists. Get in touch today on 07544 834277 or 0151 928 6087 to check availability for laser hair removal Ormskirk, laser hair removal Southport, laser hair removal St Helens, laser hair removal Warrington, laser hair removal Widnes, laser hair removal Wigan and laser hair removal Wirral.